A multi award-winning research and development led company that allows nature to lead innovation. Pre-register for exclusive early access to our crowd-funding campaign.


Eligible for EIS Tax Relief
Biohm has established itself as a leading biotech company that has rapidly grown and is in conversations with the top universities globally, large corporations and prominent governments.
To date, we have received over £750,000 including c. £600,000 in grants from Waitrose & Partners and Power to Change, in collaboration with a social enterprise to develop our plastic consuming mycelium strains and to build the worlds first community-led bio-manufacturing facility.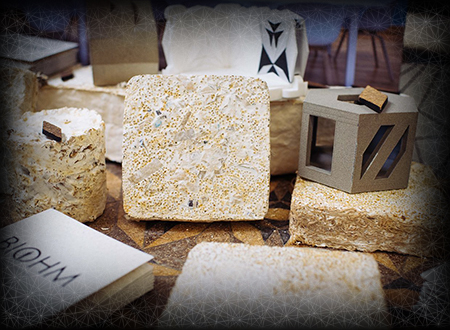 Biohm aims to bring transformation to the construction industry globally to secure the future of our planet.
The future of home.
We have developed a range of innovative bio-based building materials that outperform current synthetics alternatives. Our materials are 100% natural, cold compostable, remediate synthetic compounds and consume organic waste.
Triagomy, our revolutionary construction system, can achieve drastic reductions in a building's environmental impact, build-times and costs. We have extended our pending Triagomy patent to nearly 60 countries in 2019.
Our initial community-led production facilities are designed to manufacture up to 120 homes worth of material per month, which could sequester at least 16 tonnes of carbon and diverting 150 tonnes of waste from landfill.
We're crowdfunding! We have spent over 3 years developing and optimising our bio-technologies and in that time we have also built a solid network within the construction industry and a leading team. We are now at the point where we need to scale our technologies to meet demand and fulfil major projects.
We realise we can't revolutionise an entire industry alone. Alongside the leading industrial, academic and public support, we need you to join our revolution!
Pre-register for exclusive early access to our crowdfunding campaign on Seedrs!
When investing, your capital is at risk. For information about how we use your personal data, please see our Privacy Notice.
Investing involves risks, including loss of capital, liquidity, lack of dividends and dilution, and should be done only as part of a diversified portfolio.
This form has been approved as a financial promotion by Seedrs Limited, which is authorised and regulated by the Financial Conduct Authority. By completing this form you are agreeing to comply with and be bound by our Terms of Service, which together with our Privacy Policy, govern Seedrs's relationship with you in relation to your use of the Website.